Today, Los Angeles, May 13, 2022 /PRNewswire/ — medibles, the leading next-generation subscription-based platform, announced it had enhanced its proprietary algorithm and online health questionnaire. medibles' algorithm is based on thousands of research studies and the expertise of the company's Medical Advisory Board. As a result, the individualized assessments meet consumers' desires to find the correct CBD dosage for their health and wellness needs. 
This improvement to the medibles' platform technology illustrates the company's initiative to build the most advanced next-generation subscription-based platform experience not just in the CBD industry but the Healthcare industry as a whole. 
medibles' created an online health assessment algorithm, using its medical advisory board's expertise, the consumer's unique individual profile, science, and cutting-edge technology to build a personalized CBD regimen recommendation tailored to each unique customer.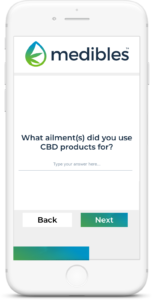 "Healthcare data aggregation into a single picture of a person is already happening. Over time, this data will become richer, real-time, and more consistent, allowing health systems and how medical professionals deliver care to be more precise and better tailored to an individual's likely response to treatment." said Bobby Ntoya, CEO at medibles.
Furthermore, "medibles seeks to take the guesswork out of Cannabinoid and various medicine dosage for consumers, accelerate the adoption of personalized precision medicine, and deliver the most advanced prediction and treatment of disease, tailored to an individual's unique circumstances, history, and condition. Improving our online health assessment allows for a seamless experience for identifying and providing the customers' proper CBD and various medicine dosages."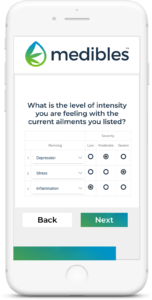 medibles offers recommendations of CBD to users based on results from a lifestyle questionnaire, including questions about drug use in its questionnaire to help its users avoid adverse effects based on CBD and various drug interactions. "When someone takes a medication or other substance, they have to break it down. Drug metabolism happens throughout the body, such as in the gut, but the liver plays a big part. A family of enzymes called cytochrome P450 (CYP450) does the vital work of converting foreign substances to be eliminated from the body easily. But some medications or substances affect CYP450, either by slowing or speeding up drug metabolism. That change in metabolism rate can alter how someone's body processes the medications or supplements they take — hence a drug interaction." — Gregory L. Taylor, II, MD, Chief Medical Officer & Medical Advisory board member at medibles.

About medibles
medibles is a next-generation subscription-based platform provider that supplies CBD products such as edibles, capsules, concentrates, tinctures, and more for your health and wellness. We offer a personalized CBD program that provides an online health assessment using our proprietary algorithm, a doctor-recommended CBD regimen routine, and a monthly home delivery service. Our doctors, pharmacists, and other healthcare experts on our Medical Advisory Board created an online health assessment algorithm using its combined years of professional expertise, science, and technology. Along with analyzed peer-reviewed scientific studies, current and ongoing research, more than thousands of potential medication interactions, and input provided by clients to recommend a monthly personalized CBD dosage regimen delivered to the customer. medibles is available on both iOS and Android, or visit our site and take our new improved free online health assessment.
Follow us on Linkedin, Facebook, Twitter, Instagram, or YouTube.
Media contacts
Erika De Jesus

medibles PR
bewell@medibles.io
866-546-0694
SOURCE medibles
Related Links