"When you take a medication or other substance, your body has to break it down. Drug metabolism happens throughout the body, such as in the gut, but the liver does a big part of the job, as well. A family of enzymes called cytochrome P450 (CYP450) does the vital work of converting foreign substances to be eliminated from the body easily. But some medications or substances affect CYP450, either by slowing or speeding up drug metabolism. That change in metabolism rate can alter how your body processes the medications or supplements you take — hence a drug interaction."
— Gregory L. Taylor, II, MD, Chief Medical Officer & Medical Advisory board member at medibles
Enter a medication or over-the-counter product you are taking to check for interactions with Cannabidiol.
Can't find your medication?
Do certain medications interact with (CBD) Cannabidiol?
Yes, there are medications that interact with CBD. These interactions typically involve medications that are metabolized by CYP450 enzymes and could interact with cannabidiol (CBD). Below are drugs known to use the CYP450 system, according to the Indiana University Department of Medicine.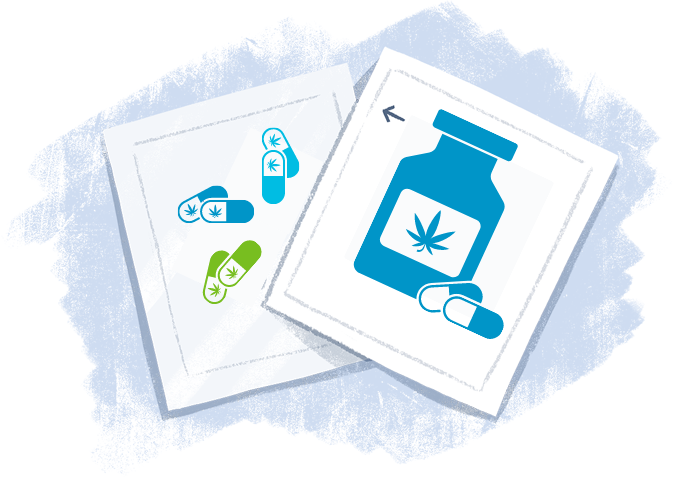 What's the Grapefruit Test ?
The "Grapefruit Test" is an excellent method if you want to know if any of your medications will interact with CBD.
Due to the novelty and the limited research conducted on CBD thus far, you should ask to do the "Grapefruit Test" with your doctor. The "grapefruit test" is asking your doctor if any of the medications you're taking could be affected by eating grapefruits.
Cannabidiol works in precisely the same manner chemically as a grapefruit in your body, just more powerful… in that, it could impact many widely used medicines. When consulting with your doctor, your Physician may not be familiar with CBD as a compound… therefore a safety precaution when discussing using CBD is to ask if any of your medications can interact with grapefruit.
Can you Take CBD and Drink Caffeine?
Caffeine and CBD complement each other because they bind to the same receptor. Typically when your body gets tired, a hormone in the brain (called Adenosine) binds to a specific receptor called A2a. When that happens, that results in a digest and rest effect. The human body gets a signal to relax to facilitate digestion. Caffeine blocks that very receptor to maintain vitality and energy.
Interestingly CBD binds to that same receptor and promotes caffeine in the same way. At the same time, while blocking the A2a receptor, it also slows down the absorption of caffeine, which results in a prolonged effect! However, one should use caution because this can result in excess consumption of coffee throughout the day without the perils of anxiety, which may result in staying up all night.
Can you Take CBD and Drink Alcohol?
A popular question in regards to CBD drug interactions is whether or not someone can drink alcohol while using CBD. Unfortunately, there isn't enough research conducted thus far to answer that question empathically. Therefore you should be extremely cautious when drinking alcohol while taking CBD.
However, we do know several facts about CBD and Alcohol interactions.
People taking CBD typically have a lower blood level of alcohol when taking CBD when compared to a controlled group. CBD also reduces the brain mechanisms which are responsible for cravings for relapse to drinking. With that said, as research continues, we will further update our knowledge-base with relevant information in regards to alcohol and CBD interaction. In the meantime, please complete a free assessment below, and one of our Bio-health specialists will contact you with your personalized CBD regimen.
Speak with your doctor or pharmacist to better understand any possible CBD-Drug Interactions prior to starting a new medication or CBD regimen program.
What Our Customers Say About Us
Help is at Your Fingertips
Our on-staff Bio-Health Specialists are here to answer your questions.
M-F, 9 am - 5 pm PST. Sat-Sun 9 am - 2 pm PST. For more help, please email or call us.